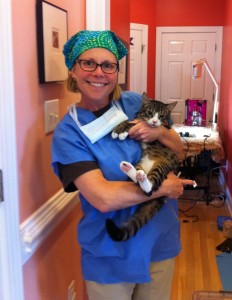 DR. MARTY EDWARDS
Dr. Marty Edwards grew up in Eden, NC. She decided to pursue veterinary medicine while attending Carteret Community College and volunteering at Outer Banks Wildlife Shelter (OWLS) in Morehead, NC. She went on to get her Bachelor of Science in Animal Science at North Carolina State University where she graduated summa cum laude in 1993. Marty earned her veterinary degree from Louisiana State University in 1998. She received the Hershey Comeaux Memorial Award of Excellence given by the intensive care unit of the small animal clinic "in recognition of her technical skills; unselfish attitude towards classmates, inferiors, and superiors; knowledge that does not supersede common sense and judgment; and her genuine concern and compassion for the patients under her care." After working as a fill-in veterinarian around North Carolina (and Alaska) for ten years, Dr. Marty decided to start her own mobile veterinary practice. Currently she lives in Cary with her husband, son, one dog (Blue the Lab mix), and one cat (Nala).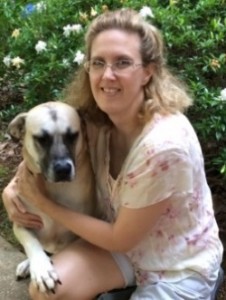 DR. RACHEL DAVIS
Rachel is originally from the Chicago suburbs, where she received her undergraduate degree from the University of Illinois at Urbana-Champaign. She moved to North Carolina from Maryland in 1997 and graduated from NCSU College of Veterinary Medicine in 2001. Since graduation, she has worked in small animal practice in Chatham county and Cary. Her interests include dentistry, soft tissue surgery, client education, pain management, and wound care. She is thrilled to be able to apply her love of surgery and dentistry to mobile practice.
Rachel and her husband, Clark, live in Cary with their daughter, their dog Edie, and three cats, Sid, Pygmonkey and Fuzz Button. In her free time, Rachel enjoys swimming, reading, knitting and sewing.